We print on A LOT of different papers, materials and substrates and we are always researching, testing and adding more. I continue to beta-test and have assisted in research for most of the major paper, printer and imaging equipment manufacturers (HP, Canon, Epson, Hahnemuhle, Polaroid, Kodak, Ilford) so I'm usually in the know before new papers and photo / imaging products come to market. Most prices for papers for art reproduction and printing of photography are on our price list below.
For paintings we will produce a hi-res digital scan on our fantastic state-of-the-art scanner (up to 6,000 dpi) or using our even better 170 megapixel capture system, retaining all detail and texture. Then we do color corrections, set-up and proofing to prepare the file for printing. The hi-res scan or capture set-up incurs a $55 ONE-TIME flat fee.
Photographers: You can upload files DIRECT TO OUR SERVER or send files via the storage service of your choice (Dropbox, Box, GoogleDrive, etc). Once your images are printed you may pick up at our studio outside Athens, GA. FREE local delivery to the Athens area can be arranged. We ship nationwide primarily via UPS.
We custom print to any size. Sizes / Prices for some more common sizes are on our price list. Please call, email, or use our contact page for prices on fabric, vinyl, banner and adhesive media.
New Papers and Prices not yet on the price list:
Textured Etching – same as our most popular matte paper, German Etching, but with a light texture. Price is same as German Etching: $14.25 / sq. ft.
Hahnemuhle Baryta FiberBase heavyweight photo paper – absolutely the best paper for photo printing I've ever used. Price is $17 / sq. ft.
Satin Finish Cotton Blend 17M Canvas – a great canvas for photographs, gallery wraps and fine art. Provides a satin sheen. Price is $18 / sq. ft.
Gloss Finish Cotton Blend Canvas – very popular with painters as it allows a near perfect match to gloss varnished oil paintings. Renders beautiful deep blacks and saturated colors. Price is $18 / sq. ft.
Matte Fine Art Cotton Blend Canvas – better color reproduction range and shadow detail, the very best matte canvas for accurate reproduction of paintings. Price is $18 / sq. ft.
Stretched Canvas Pricing / New Somerset Velvet – Effective January 1st, 2023: Disregard the green columns reflecting old pricing for canvas prints on the price list below. All canvas is $18 / sq. ft. for the print only. Due to lumber supply issues and fluctuating lumber prices, canvas stretchers and stretching of canvas is priced separately from the canvas. Also, many of you know we discontinued Somerset Velvet due to supply / consistency issues. Those issues appear to be resolved. Disregard prices for the Old Somerset Velvet on the price chart. New Somerset Velvet is $16 / sq. ft.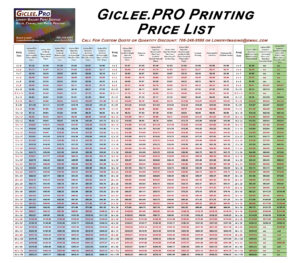 What our clients say
"The photos are up, and they look great!! We have already received a bunch of compliments."

 

C. Rice, Associate Director of Communications and Public Relations, University of Georgia School of Law